How New Bub Club is shaking up the zero waste landscape for parents in Melbourne
A rocky start into motherhood and growing discomfort with how her family's waste footprint was exploding with a newborn led Darby to launch New Bub Club - Melbourne's first zero packaging waste no prep meal delivery service. Specifically designed for new and time poor parents, NBC delivers no prep, nutritious meals to families across Melbourne in reusable containers and packaging.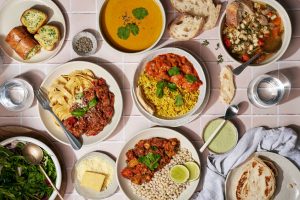 Darby didn't want new parents like herself to have to choose between convenience and their ecological footprint. So New Bub Club set out to design an eco-friendly service that would provide vital support to families as they adjusted to parenthood.
How it works
The vast majority of NBC's customers are weekly subscribers. Families get three complete meals delivered every week, made-from-scratch with whole ingredients, in glass meal containers. The meals are delivered in cardboard packaging lined with excess wool to keep the meals cold. The following week the meal containers and all packaging are collected when the new meals are dropped off. Containers are sanitized in a commercial kitchen and refilled the following week. A small percentage of deliveries are single purchases – these containers are collected for reuse if they are on the delivery route, or reused at home by families to avoid unnecessary food miles.
Darby explains that choosing containers was a difficult decision that she often revisits to assess the suitability:
"On one hand, glass is a no brainer. Our families can put it in the oven, microwave, dishwasher, and freezer. It's readily accessible and very cost-effective. On the other, while it's durable, it's still breakable and comparatively very heavy. I'm always on the lookout for other options that could work for our families and business model."
The impact
In its first six months of operation, New Bub Club's closed loop business model has saved over 1000 meal containers from ending up in landfill. For Darby, it's also about the everyday impact the service has on its customers:
"I love chatting with families about how our service supports them – from the 3 day postpartum mum who told me it was this or eating beans from a can because she was so overwhelmed, to the families of 5 getting time back to bond after school."
Contact:
Darby O'Donnell
hello@newbubclub.com
www.newbubclub.com